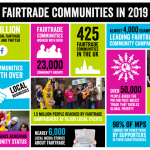 Fairtrade Fortnight events are going on all over the region.
NORTH YORKSHIRE
27 February – 6pm – SOFA SESSION Spurriergate Centre, York. This is our flagship event for Fairtrade Fortnight 2020.
Speakers include: Cocoa farmer Rosine Bekoin, Rachael Maskell, York Central MP, Sarah Wakefield, Food Sustainability Manager, Co-op, Sophi Tranchell, Managing Director of Divine Chocolate, Sophie Jewett of York Cocoa House and the Fairtrade Foundation's Julia Nicoara, Director of Public Engagement.
22 February – 10-1 BIG BREW St Edmunds Church, Leeds
7 March – 10.30-1.30 COFFEE MORNING Methodist Centre, Chapel Allerton, Leeds
19 March – 11-3.30 FAIR TRADE FAIR Leeds University